Fraternities Archive
2001 saw the set up of the Archive of Polish Academic Fraternities. Its aim is to collect the fraternity mementoes and also any information pertaining to Polish Academic Fraternities and its members, thus making it possible to preserve fraternities history and traditions for posterity (vide About the Fraternities).
This language version complies with requests raised by those families of Polish pre-war fraternity members that live abroad. Another group this Service is targeted to are fraternity and academic association members from other countries, in particular from Germany, Austria, Switzerland, Latvia and Estonia. All site visitors are kindly invited to develop this Fraternities Archive. We will be grateful for any information on pre-war Polish Fraternity Members and also any facts on preserved fraternity mementoes from pre-war period and those related to post-war activity of Polish fraternities running their activities outside Poland in the period 1939-1989 (vide Search).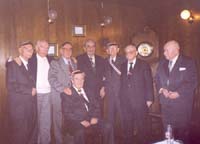 Senior Member Association of Academic Fraternities, Poznań 2000 r.
This archive was set up with the support of the Senior Member Association of Academic Fraternities of Poznań and Lechia fraternity. With strong support of Association's board members Bolesław Skrzypczak Ph.D. and Zygfryd Kordus, a nationwide and ongoing archive promotion started in spring 2001.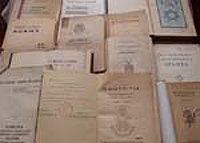 Księgi pamiątkowe polskich korporacji akademickich z lat 1889 – 1937, Archiwum Korporacyjne 2007 r.
With the vivid backing given by more that 100 living pre-war fraternity members as well as some hundred families of the late ones, we have managed to collect several dozen genuine fraternity caps, more than a hundred of sashes and fraternity compasses, a few thousand pre-war photos, newspapers, publications and documents belonging to the fraternities of Vilnius, Warsaw, Lviv, Gdańsk, Poznań, Lublin, Cracow, Kaunas and Vienna altogether. A number of those mementoes as well as several hundred monographs on Polish fraternity history and traditions is presented in on-line Museum of Polish Academic Fraternities founded in the year 2007 (vide Fraternities Museum).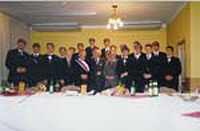 Komers reaktywacyjny Konwentu Magna-Polonia, Poznań 13 III 2004 r.
Apart from search for mementoes and any info related to preserving history and traditions of Polish Academic Fraternities and setting up the Fraternities Museum, some other activities have been developed over last years. In the period 2001-2008 the insignia of re-established fraternities have been restored (vide Fraternities restoration). The archive content was made available to other active Polish Academic Fraternities and used while writing scientific papers and for journalist purposes (vide Making archive content available). In the academic year 2006-2007, we have managed to register interviews conducted with several dozen members of pre-war Polish fraternities (vide Last senior members). In the year 2007 the first in a planned series of exhibitions of mementoes collected by the Archive (vide Exhibitions) took place and this year we started an initiative aimed at funding three plaques within three forthcoming years. Those plaques will be dedicated to the memory of Polish Academic Fraternities members (vide Plaques).
Every activity within the framework of the Fraternities Archive undertaken in the period between 2001 and 2007 was financed by private funds only. We are happy to announce that the Archive has started getting the financial support from associations and individuals over the last months. Thanks to Markslojd Sp. z o.o. and its President, Mr Wieńczysław Michalski this site could be launched. Our further actions are largely dependent on financial support we can get. We plan to continue ongoing activities and begin many new ones in different areas. Some of them have been presented at this site (vide Activities).
With these plans in mind, we kindly ask you to support the Archive development. In particular, we would appreciate your support in the search for any mementoes and information related to the history of Polish Academic Fraternities (vide Search) and in developing on-line Museum of Polish Academic Fraternities (vide Fraternities Museum).
Any donations, with a note "The Fraternities Archive" can be transferred at the account of Polish Academic Fraternities Foundation. This foundation is a legal person and its National Court Register entry no. is 0000314980.
Address: os. Wichrowe Wzgórze 3/83, 61-672 Poznań, Poland
Account no. PL 76 1090 1359 0000 0001 1019 4201.
SWIFT: WBKPPLPP.
Any donation will be greatly appreciated. We will be happy to answer any your queries (vide Contact).
Bartłomiej P. Wróblewski