About Fraternities
Genesis
The history of university embodies the history of students and organizations they founded. Among those organizations, there are student fraternities. Though dating back to Middle Age "nations", the first modern fraternities were founded at the turn of the XVIIIth and XIXth centuries at the Universities in Germany.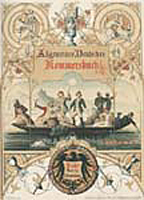 Title page of a German Kommersbuch, Lahr ca. 1910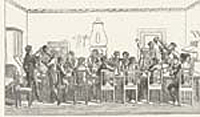 Pointing ceremony, Göttingen ca. 1816
Within a short period of time, this form of organization spread throughout Central and Eastern Europe. At the moment, there are several thousand active university fraternities to be found in various cities, to mention Geneva, Strasbourg, Tartu, Riga, Hamburg, Loewen, Chernivtsi, Budapest as sample cities only. After WWII, some fraternities were founded also outside Central Europe – in Italy, Chile, Japan, Kazakhstan and Syria.
What sort of organization is it?
Given their diversity and various forms of organization they had in different periods of time and different lands, to accurately reply to the above question is not an easy task. One may even say, it is hardly possible…. Nonetheless, there are some fraternity distinctive features:
they observe at least some customs and traditions typical of the university associations being active in "the Central European cultural circle" and called "corporationes" (usually three-level hierarchical membership structure, taking decision in a democratic way, own symbols and external attributes),
their membership is lifelong,
among their members are students and university graduates,
their activity is aimed at mutual assistance, self-education and developing social as well as political activities.
It should be emphasized that the activities of majority of the Polish fraternities were and are still focused on upbringing young men in a public-spirited and patriotic way. It is also worth noting that since the XIXth century the student fraternities have given foundation to similar organizations, where members are secondary school pupils. This sort of fraternity-like organization is very popular particularly in Austria. Also, similar organizations of secondary school pupils of Jewish origin ran their activities in the interwar period in Poland.
Foundation of the first Polish fraternities
The first Polish fraternities were founded at the German-speaking universities in Germany and Russia. Although their internal organization resembled the German fraternities, the Polish fraternities were very patriotic. The first one - the Polonia fraternity was set up in Wrocław in the year 1816. The second one, bearing the same name, was founded in Berlin two years later. Karol Marcinkowski, MD, a famous social and political activist in the Wielkopolska region was member of the Polonia fraternity in Berlin. Both aforementioned organizations were active for several years only, and they fell victim to repressions of the Prussian authorities in 1831.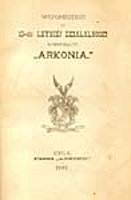 Title page of Arkonia Book commemorating its 10th anniversary, Riga ca. 1889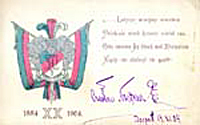 Commemorative paper, 20th. anniversary of setting up Lutycya fraternity, Dorpat 1904
Further Polish student fraternities were set up under Russian rule, in the territory of the Principality of Inflanty (today this area belongs to Estonia and Latvia), where many Poles studied in the XIXth century at the University of Dorpat (nowadays Tartu) and at the Technical University of Riga. Among them, the first one was the Konwent Polonia, established in 1828 in Dorpat. This organization was a direct successor to The Philomat and Philaret Society (Towarzystwo Filomatów i Filaretów), whose activities were declared illegal by the Russian authorities. Subsequently, more Polish fraternities were founded i.e. Arkonia (Riga, 1879), Welecja (Riga, 1883), Lutycya (Dorpat, 1884), Venedya (Dorpat, 1884), Lechicja (Dorpat, 1897). Outside the Baltic countries, some other Polish fraternities were founded at the beginning of the XXth century. Their list includes Sarmatia (Petersburg, 1908), Ceres (Lipsk, 1908), Jagiellonia (Wiedeń, 1910), Lechia (Czerniowce, 1910) and Wisła (Gdańsk, 1913). During the period of the Partitions of Poland there were 40 Polish organizations of fraternity nature in total (vide ).
Fraternities in the Second Polish Republic
At the end of WWI and soon after the war was finished, some of the Polish fraternities moved their sites from the partitioner lands to Poland. Vilnius became home to Polonia from Dorpat, and Warsaw to Arkonia and Veletia from Riga, Lechicja from Dorpat, Sarmatia from St.Petersburg and Jagiellonia from Vienna, whereas in Lviv the Lutyco-Venedya fraternity was established following the merge of two fraternities of veterinary science students in Dorpat (Lutycyia and Venedya).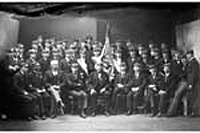 Lechia Fraternity with its Patron, gen. Józef Dowbor-Muśnicki, Poznań 1922/23
Since 1920 completely new fraternities also started their activity. The first ones i.e. Magna-Polonia (year of establishment - 1920.), Lechia (1920) and Posnania (1921) were set up in Poznań. During the period of 20 years between 1919 and 1939 almost 200 new fraternities were founded in Poland. They were running their activities at the Universities of Vilnius, Warsaw, Lviv, Poznań, Cracow, Lublin and Cieszyn (to learn more - see description of particular cities - vide Fraternity Museum). The fraternity movement in interwar Poland was featured by diversity. Almost every fraternity active in the said period can be described as a conservative and elite association focused on upbringing young men in a public-spirited and patriotic way.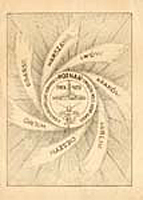 Guide issued for the Nationwide Congress of the Association of Polish Academic Fraternities, Poznań 8-10.09.1929 More than a half of those organizations put emphasize on national and conservative issues. Though as a rule not associated with any political party or church, Polish fraternities were ideologically bound to national and conservative circles and to the Catholic Church. In 1921 the Association of Polish Academic Fraternities (Związek Polskich Korporacji Akademickich - Z.P.K.A.) was founded by those organizations. All abovementioned fraternities and around half of other Polish Fraternities active then became its members. The Association's motto was Salus Rei Publicae Suprema Lex (Dobro Rzeczypospolitej Najwyższym Prawem). The associated fraternities set up local inter-fraternity groups. Such local initiatives were active in Vilnius, Warsaw, Lviv, Poznań, Cracow, Lublin, Cieszyn and also outside Poland in Gdańsk.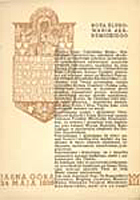 Academic oath formula, Jasna Góra 24.05.1936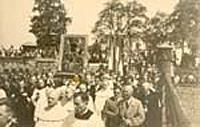 Procession with the painting of Our Lady of Częstochowa, Jasna Góra 24.05.1936
In the interwar period also other fraternities (Christian-Democratic, left-wing and supporting the Marshal Piłsudski circles) run their activities. The nationwide associations similar to Z.P.K.A were founded by them. In 1924 the academic catholic association "Odrodzenie" initiated the set-up of the Union of Polish Academic Christian Fraternities, whereas Piłsudski's adherents founded the Federation of Polish Academic Fraternities. The attempts to set up Polish sororities in those times are also worth mentioning. Such sororities appeared in Warsaw, Poznań and Cracow but they failed to develop their activities and quite quickly became inactive. Fraternities of national minorities were numerous in the interwar period. In most of the cases those fraternities brought together the students of Jewish, Ukrainian and German minorities, however one should mention also the Russian and Byelorussian fraternities in Vilnius.

Stationery footer of Jewish Academic Fraternity Emunah of Cracow, 1937
Among national minority fraternities, the Jewish ones were specific. They existed before WWI and, unlike other fraternities, had their sites not only in academic cities but also in the cities where numerous groups of Jewish students lived. Hence, those fraternities were active in Vilnius, Warsaw, Lviv, and Cracow, but also in Tarnopol, Przemysl, Stanislavov, Drohobycz, Stryj, Sambor, Złoczow, Białystok, Bielsk and Luck. In total, some 40 Jewish academic fraternities were active in the interwar period.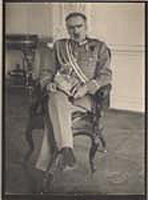 Marshal Józef Piłsudski, a Honorary Senior Member of Piłsudia fraternity of Vilnius
Those times academic fraternities enjoyed huge prestige. A number of famous politicians, and church, scientific and culture dignitaries were ordinary or honoris causa members of fraternities. The list of such members looks impressive: Ignacy Jan Paderewski (Patria), the Prime Minister of Poland; Ignacy Mościcki (Welecja), the President of Poland; Marshal Józef Piłsudski (Piłsudia); Roman Dmowski (Baltia); gen. Józef Dowbor-Muśnicki (Lechia); gen. Władyslaw Sikorski (Leopolia); Aleksander Kakowski (Ostoja), the Archbishop of Warsaw, Józef Teodorowicz (Obotritia), the Archbishop of Lviv – Armenian Rite; Władyslaw Tatarkiewicz (Aquilonia), a philosophy historian; Czeslaw Znamierowski (Palestria), a law theoretician; Felix Nowowiejski (Surma), a composer; and Jan Kiepura (Grunwaldia), a famous tenor. For more information see notices on particular fraternity centres – vide Fraternities Museum).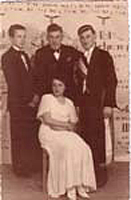 The members of Masovia fraternity at "the Celadon green ball", Poznań, the thirties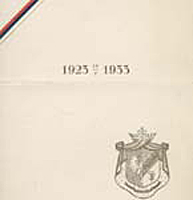 Ball invitation, 10th anniversary of Corolla fraternity, 18.05.1933, Cracow
The student fraternities tended to combine its public-spirited activity with social life. A lot of them were of exclusive nature, running many activities in the area of social and political life (participation in patriotic, social and academic events, self-studies), religion (participation in church events and pilgrimages, meetings with clergy), sport (horse riding, fencing). Naturally the fraternities held solemn feast (commercia) and quasi-solemn feast (fidulkas), balls, dances and picnics.
1939 – 1989 period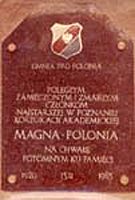 Commemorative plate of Magna-Polonia, Poznań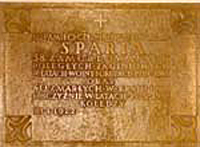 Commemorative plate of Sparta fraternity, cloister in front of St. Anna Church in Warsaw The outbreak of WWII put an end to legal activity of the student fraternities in Poland. Many fraternity members died in the Polish Defensive War of 1939. In the period between 1939 and 1956 more than 1.500 i.e. circa 15% of the Polish fraternity members passed away. During the war a number of Polish fraternity members went to POW camps or were obliged to emigrate. Despite this difficult period of time, the fraternity members continued to contact one another and, as far as it was possible, to observe the traditions of their associations.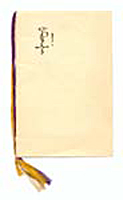 Invitation, 23rd founding anniversary of Posnania, officer camp in Neubranderburg, Germany 1944
After the war, one's declaration of the fraternity membership (though not threatened with the death penalty or imprisonment after the year 1956) was not welcome and constituted a significant obstacle to work and social career. Those difficulties notwithstanding, where possible, the fraternity activities were restored and the associations started to organize themselves again.

Seal "Arkonia and Jagiellonia in exile", London, post-war times The oldest and biggest Polish fraternities managed to bring back their organization structures outside Poland. Among the fraternities active in exile were Konwent Polonia, Arkonia, Welecja, Jagiellonia, Sarmatia and Sparta. Moreover, two restored Polish inter-fraternity groups in Chicago and Montreal are worth mentioning.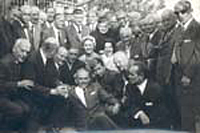 Meeting of Lechia (Poznań), Batoria (Vilnius) and Sarmatia (Warsaw) members, Baranowo near Poznań, second half of the seventies
Some fraternities managed to organize fraternity meetings or even reunions. Several plaques were unveiled in seventies and eighties to commemorate murdered and died fraternity members. Also some occasional publications were issued in that time. As early as at the end of seventies the first talks started on the possibility of restoring any form of fraternities at the Polish Universities. The first step was made in the eighties. In 1982, during martial law period in Poland the first group of new members after the year 1939 joined Arkonia. The group was composed of sons and sons-in-law of pre-war Arkonia fraternity members. However, only the political changes of 1989 rendered restoring active fraternities in Poland possible.
Restoring the fraternity movement in Poland after 1989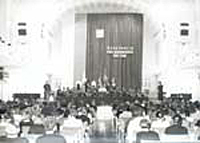 The Lechia fraternity of Poznań colour party at the inauguration of the academic year 1991/1992, Adam Mickiewicz University, Poznań, October 1991 The first restored Polish fraternity in the period of 1990-1993 was Lechia Fraternity of Poznań. A year later, the Senior Member Association of Academic Fraternities of Poznań was founded. 1992 saw the set-up of Senior Member Association of Polish Fraternities of Poland in Warsaw. At the same time Sarmatia and Arkonia were restored. In the period of 1990 - 2008 more than 20 pre-war fraternities were re-established. Now they run their activities in Warsaw, Poznań, Toruń, Gdańsk, Cracow and Lublin. Furthermore, some new (i.e. not active in the pre-war time) fraternities were set up. As early as in 1993 Magna Polonia Vratislaviensis was founded in Wrocław. This fraternity follows the tradition of Magna Polonia fraternity of Poznań. Three years ago Jagiellonia Varmiensis fraternity started its activity in Olsztyn. This association, in turn, wants to follows the tradition of Jagiellonia fraternity of Warsaw. Nowadays, efforts are made to restore subsequent fraternities.